Home / News / Industry News /

ASTM A906/A906M and ASTM A342/A342M are the standards that govern the manufacture and specification of Grade 80 chain
ASTM A906/A906M and ASTM A342/A342M are the standards that govern the manufacture and specification of Grade 80 chain
ASTM A906/A906M and ASTM A342/A342M are the standards that govern the manufacture and specification of
Grade 80 chain
, commonly referred to as "Astm80 standard link chain." The Working Load Limit (WLL) of Grade 80 chain is a critical parameter that indicates the maximum load the chain is designed to safely support under normal working conditions. Here are the key aspects related to the Working Load Limit of Grade 80 chain:
Maximum Safe Load: The Working Load Limit (WLL) of Grade 80 chain represents the maximum load that the chain can safely handle without risk of failure. This value is determined by manufacturers through rigorous testing and calculations to ensure a high level of safety.
Safety Factor: Grade 80 chain is typically designed with a safety factor of 4:1. This means that the chain is engineered to handle loads up to four times its specified WLL without exceeding its ultimate breaking strength. The safety factor provides a margin of safety to account for variations in usage, shock loading, and other unpredictable factors.
Clearly Marked: Grade 80 chain is clearly marked with the WLL for easy identification. The markings on the chain include the manufacturer's name or trademark, the grade designation (e.g., "G80" or "Grade 80"), the chain size (diameter), and the Working Load Limit (WLL) expressed in pounds or kilograms.
WLL Calculation: The Working Load Limit is calculated based on the chain's material properties, dimensions, and design factors. Manufacturers use standardized testing procedures to determine the WLL of Grade 80 chain to ensure consistency and safety.
Proper Usage: It is crucial to use Grade 80 chain within its specified WLL to ensure safe lifting, rigging, and load securing operations. Exceeding the WLL can lead to chain failure and pose significant safety risks to personnel and equipment.
Safety Standards: The WLL of Grade 80 chain is determined in compliance with ASTM standards (such as ASTM A906/A906M or ASTM A342/A342M) and industry safety guidelines. These standards establish the criteria for manufacturing, testing, and marking chain products to ensure their quality and safety.
Inspection and Maintenance: Regular inspection and maintenance of Grade 80 chain are essential to identify any signs of wear, damage, or deformation that may affect its WLL. Damaged or worn chain links should be replaced promptly to maintain safety.
In summary, the Working Load Limit (WLL) is a critical specification for Grade 80 chain, as it defines the maximum load capacity under safe working conditions. It is essential for users to adhere to the specified WLL and follow proper safety practices when using Grade 80 chain in lifting, rigging, and load securing applications to prevent accidents and ensure the safety of personnel and property.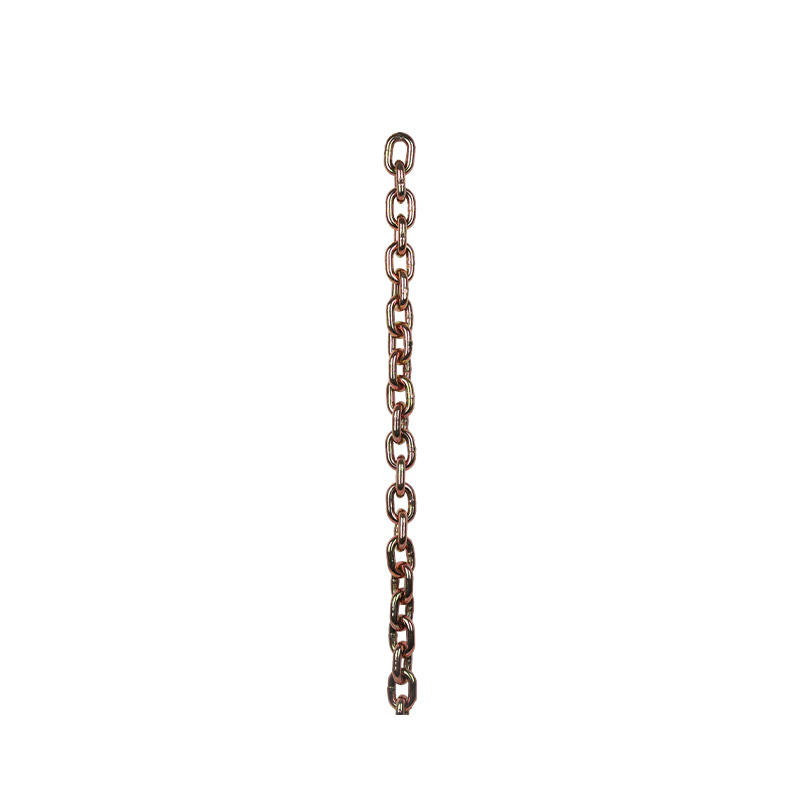 Astm80 G70 Transport Link Chain 1/4" 5/16" 3/8" 1/2"