Home / News / Industry News /

The Grade 70 Transport Chain is a high-quality chain for securing loads on over-the-road equipment
The Grade 70 Transport Chain is a high-quality chain for securing loads on over-the-road equipment
G70 Transport Chains
The Grade 70 Transport Chain is a high-quality chain for securing loads on over-the-road equipment.
It has a 25 percent higher strength than high-test chains, making it a great choice for load-binding applications. It is made of heat-treated carbon steel and is hallmarked every one to three feet with the manufacturer's symbol and grade marking. It is not suitable for overhead lifting.
The G70 transport chain is designed to be clean and lightweight, while providing strength and reliability. It is available in six to thirteen-mm-diameter sections, and comes in gold zinc finish. It is marked with its tensile strength and load capacity in tonnes, and also has a traceability label that specifies the length of the chain. It is also available in 50-kg pails or 500-kg drums, and can be cut to size to suit your application.
Chunkers are available to fit eight and ten-millimeter-thick G70 transport chains. These chain load chokers are manufactured to meet or exceed international standards and are perfect for limiting the movement of a load during transport. They are also manufactured to AS/NZS 4344 and EN 12195-3 to ensure safety.
These chains are made of heat-treated steel and have two grab hooks on each end. They have a working load limit of 6,600 lbs and a maximum load capacity of 26,400 lbs. They are compatible with other items and meet DOT and FMCSA specifications. They are available in lengths of 20 feet.
G70 Binder Chain Assembly
If you are looking for the ultimate rigging chain for your heavy-duty lifting needs, the G70 Binder Chain Assembly is the perfect choice. This chain assembly is made from a special alloy steel that is heat-treated for strength and durability. It is also equipped with forged clevis hooks to prevent chain corrosion. This chain should not be used for overhead lifting, but is the best choice for a variety of rigging applications.
The G70 chain features a durable and yellow-chromate finish for superior rust resistance. It is also equipped with Grade 70 drop-forged clevis grab hooks for superior gripping power. It is designed to meet all the requirements set forth by the Department of Transportation and California Highway Patrol. This chain is also lightweight, which is another important factor.
Grade 70 chain has a working load rating of twenty percent higher than High Test chain, and is often used in the transportation industry. Its strength allows it to handle higher working loads, reducing the number of chains required for protection. It is sold in several different sizes, from 1/4 inch to 5/16 inch, and is available in many different lengths.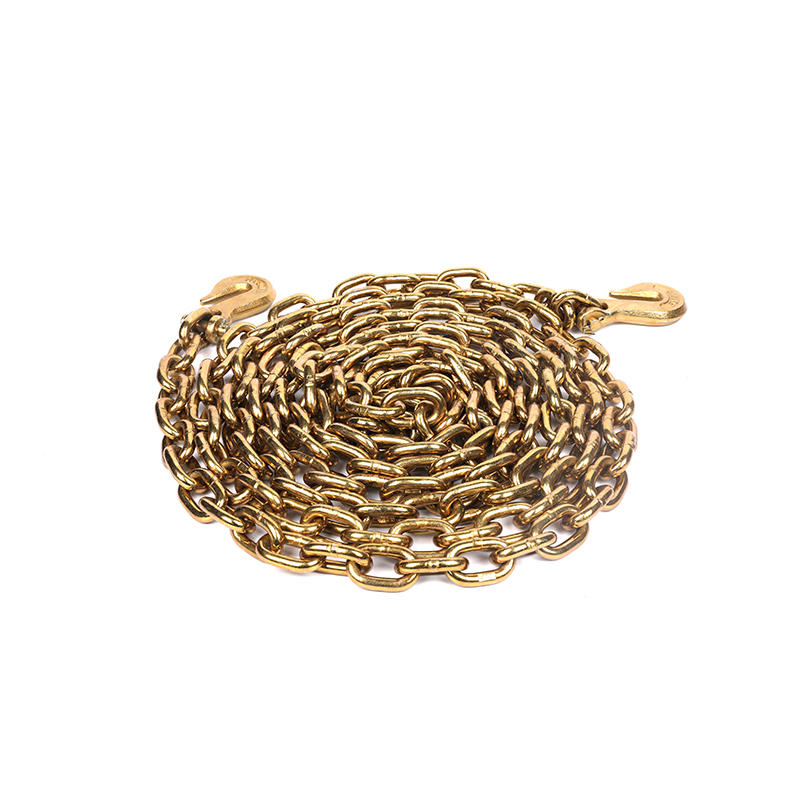 G70 chain with clevis eye grab hooks both ends
Size 
ASTM80
NACM90
NACM96
PCS per Drum
WT. (kg)
W.L.L. (lbs)
MBS (lbs)
WT. (kg)
W.L.L. (lbs)
MBS (lbs)
WT. (kg)
W.L.L. (lbs)
MBS (lbs)
Grade 43
1/4" x 14'
5.0 
2,600 
7,500 
4.5 
2,600 
7,500 
4.5 
2,600 
7,800 
50
1/4" x 16'
6.0 
2,600 
7,500 
5.0 
2,600 
7,500 
5.0 
2,600 
7,800 
40
5/16" x 14'
7.5 
3,900 
11,600 
6.0 
3,900 
9,700 
7.0 
3,900 
11,700 
35
5/16" x 16'
8.5 
3,900 
11,600 
6.8 
3,900 
9,700 
8.0 
3,900 
11,700 
30
5/16" x 18'
9.5 
3,900 
11,600 
7.5 
3,900 
9,700 
9.0 
3,900 
11,700 
30
5/16" x 20'
10.5 
3,900 
11,600 
8.0 
3,900 
9,700 
9.5 
3,900 
11,700 
25
5/16" x 25'
13.0 
3,900 
11,600 
10.0 
3,900 
9,700 
12.0 
3,900 
11,700 
20
5/16" x 30'
15.5 
3,900 
11,600 
12.0 
3,900 
9,700 
14.0 
3,900 
11,700 
20
3/8" x 14'
10.5 
5,400 
16,200 
9.5 
5,400 
15,200 
10.0 
5,400 
16,200 
25
3/8" x 16'
12.0 
5,400 
16,200 
11.0 
5,400 
15,200 
11.5 
5,400 
16,200 
25
3/8" x 20'
15.0 
5,400 
16,200 
13.5 
5,400 
15,200 
13.5 
5,400 
16,200 
20
3/8" x 25'
18.5 
5,400 
16,200 
16.5 
5,400 
15,200 
17.5 
5,400 
16,200 
20