Home / News / Industry News /

The Grade 70 Transport Chain is designed for the professional transportation industry
The Grade 70 Transport Chain is designed for the professional transportation industry
G70 Transport Chains
The Grade 70 Transport Chain is designed for the professional transportation industry and offers the best in strength, durability, and quality.
This specialized chain is used to tie down loads that need special attention. It is manufactured to high standards and is available in several lengths and widths. You can also order cut lengths if you're not in the mood for an entire pallet of the chain.
Unlike other chains, the grade 70 Transport Chain is heat-treated to ensure superior strength and durability. Typical applications for this chain include tie-downs on trailers and over-the-road equipment. Other uses for the chain include cargo control, logging, and steel erection. In addition, it is a great choice for many rigging applications.
Aside from being a sturdy and reliable product, the G70 Transport Chain is one of the smallest and lightest of its kind. With the help of heat treatment, this product elongates and resists corrosion which is typical of highway use. Its bright yellow finish also makes it a nice option for tow operators. Also, the Grade 70 Transport Chain is a good choice for those who want to tie down items that are hard to access.
The Grade 70 Transport Chain is also one of the cheapest of its kind. You can purchase this product in a variety of sizes, including 6mm, 10mm, and 13mm. Additionally, it is available in a wide range of colors. You can choose from gold zinc, silver zinc, or even hot-dipped galvanized. All of the materials are heat-treated to make the chain stronger and more resistant to wear and tear.
If you're looking for a more economical way to use the Grade 70 Transport Chain, you may want to look at the kits that are offered. These kit-like products are manufactured to international standards, and include all the elements needed to provide a reliable and cost-effective solution for your cargo-tying needs. Some of the features found in these products include a ratcheting binder that is compatible with G70 transport chains, as well as a Clevis Grab Hook that will firmly secure your load. They are also easy to install and handle.
The Grade 70 Transport Chain is a durable and practical product that is also a shopper's favorite. Its many features, such as the ability to withstand extreme weather conditions, and its durability, make it a top choice for tow and rigging applications. Another notable feature of this product is its high tensile strength, which enables it to hold its own in the event that the primary attachment breaks down.
When shopping for a chain that offers the benefits of the Grade 70 Transport Chain, be sure to compare its many advantages to other brands. One thing to remember is that it does not have the necessary characteristics for overhead lifting. Fortunately, it is not impossible to obtain a chain that can lift heavy weights, but you need to make sure that you get the most out of your money.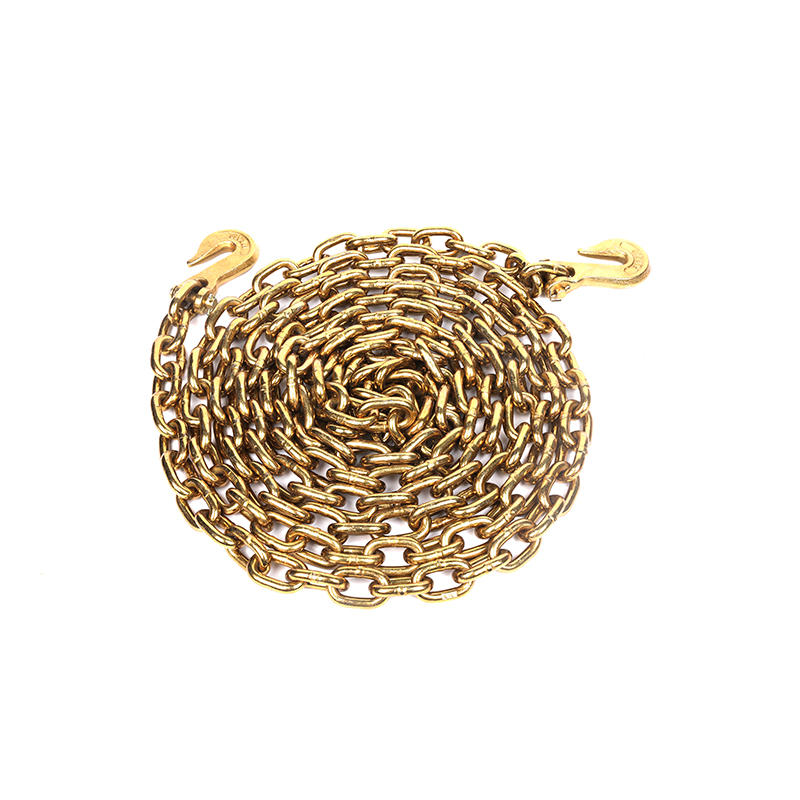 G70 chain with clevis eye grab hooks both ends
Size 
ASTM80
NACM90
NACM96
PCS per Drum
WT. (kg)
W.L.L. (lbs)
MBS (lbs)
WT. (kg)
W.L.L. (lbs)
MBS (lbs)
WT. (kg)
W.L.L. (lbs)
MBS (lbs)
Grade 43
1/4" x 14'
5.0 
2,600 
7,500 
4.5 
2,600 
7,500 
4.5 
2,600 
7,800 
50
1/4" x 16'
6.0 
2,600 
7,500 
5.0 
2,600 
7,500 
5.0 
2,600 
7,800 
40
5/16" x 14'
7.5 
3,900 
11,600 
6.0 
3,900 
9,700 
7.0 
3,900 
11,700 
35
5/16" x 16'
8.5 
3,900 
11,600 
6.8 
3,900 
9,700 
8.0 
3,900 
11,700 
30
5/16" x 18'
9.5 
3,900 
11,600 
7.5 
3,900 
9,700 
9.0 
3,900 
11,700 
30
5/16" x 20'
10.5 
3,900 
11,600 
8.0 
3,900 
9,700 
9.5 
3,900 
11,700 
25
5/16" x 25'
13.0 
3,900 
11,600 
10.0 
3,900 
9,700 
12.0 
3,900 
11,700 
20
5/16" x 30'
15.5 
3,900 
11,600 
12.0 
3,900 
9,700 
14.0 
3,900 
11,700 
20
3/8" x 14'
10.5 
5,400 
16,200 
9.5 
5,400 
15,200 
10.0 
5,400 
16,200 
25
3/8" x 16'
12.0 
5,400 
16,200 
11.0 
5,400 
15,200 
11.5 
5,400 
16,200 
25
3/8" x 20'
15.0 
5,400 
16,200 
13.5 
5,400 
15,200 
13.5 
5,400 
16,200 
20
3/8" x 25'
18.5 
5,400 
16,200 
16.5 
5,400 
15,200 
17.5 
5,400 
16,200 
20