How to Install a Trailer Safety Chain
If you own a trailer, you need to make sure that you have a safety chain installed to prevent your trailer from sliding away from your vehicle. You should also check the chains for wear. The safety chains that are included with a trailer are durable sheet steel and feature a weatherproof seal. In addition to protecting you, these chains ensure that your trailer and tow vehicle stay connected.
Safety chains are made from electro-galvanized steel and include two S-hooks with safety latches.
These chains are designed to hold up to 2600 pounds of working load. There are several different types of safety chains that you can choose from. While each type can be effective, the best option is the one that meets your needs.
Before you hook up your trailer to your tow vehicle, you should check your chain to make sure that it is in good condition. Some chains are twisted or damaged, which can be dangerous. Make sure that you follow the instructions in your owner's manual. It is also recommended that you check the chains every hour while you're towing the trailer.
You should use a trailer safety chain that is rated above the hooks that you will attach to your trailer. This is because the chains are only engaged for an instant when the trailer is uncoupled.
Depending on the state you live in, you may be required to install safety chains when towing a trailer. Most states require that you have at least one chain, but in some cases, you may need to install a cross-over or double chain. You should never use a breakaway lanyard or any other part of your hitch to secure a safety chain. Rather, you should use a chain that is long enough to cover the entire length of your trailer.
You should keep your chains attached to the chain retainers. This is because they are designed to prevent the chains from dragging on the ground. However, you should allow some slack so that you can turn the tow vehicle if necessary.
It is important to make sure that the chains you are using are rated as high as the GVWR of your trailer. The GVWR is the gross weight of the vehicle plus the weight of the trailer. To determine your GVWR, you should read the placard that comes with your trailer.
Another important thing to remember is that you should never twist your chains. Twisting can cause the chains to weaken and fail to keep the tongue of your trailer up. Also, twisting can damage the chain, which can then cause it to fall off or get caught in your hitch.
Aside from checking your chains for damage, you should also make sure that you are using the right size. Several classes are available for trailer safety chains, so you need to select the right one. Whether you are towing a small camper or a large trailer, it is important to have the right kind of chain for your specific needs.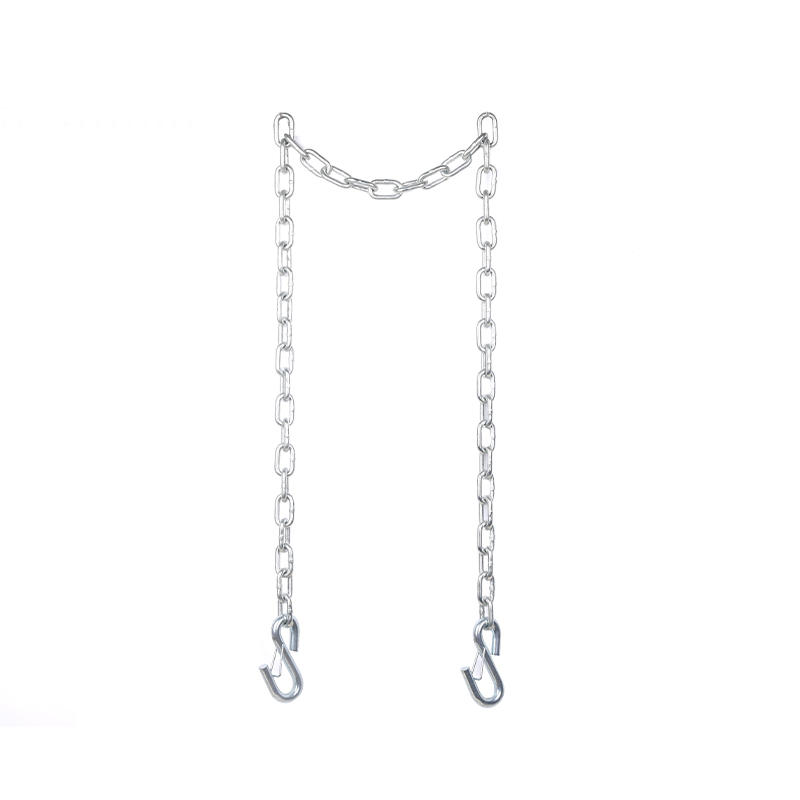 Trailer safety chain assembly with s hook both ends
Trailer Classification
Chain Size
S-hook Size
Min. Breaking
inch
inch
lbs
1
  3/16
 3/8
2,000 
2
  3/16
 3/8
3,000 
3
 1/4
  7/16
5,000 
4
  5/16
 17/32
7,000 
4
 3/8
 17/32
7,000