There are many different types of chains used in the transport industry
Towing Chains Type Of Transport Chains
There are many different types of chains used in the transport industry, and a little knowledge can go a long way. Each has its own use and purpose, so understanding what to look for will help you choose the right product for your specific needs.
V-bridle chains, also known as v-chains, are a popular choice for towing flatbed tow trucks and recovery vehicles. They are made of 5/16" Grade 70 chain and come with an array of hooks for various applications.
They are made of high-strength/low-alloy carbon steel and undergo a heat-treating process to increase their strength, making them perfect for heavy load stabilization. They are proof tested and plated with yellow zinc chromate.
These chains are incredibly strong and can handle the harsh conditions of towing, but they do need to be used with care because they are not rated for overhead lifting. They are usually equipped with a specific type of clevis grab hook.
Grade 70 chains are about 20 percent stronger than Grade 43. They are made from heat-treated carbon steel that is incredibly sturdy and durable, and typically come in a gold chromate finish for easy identification - as well as protection from abrasion and scratches.
This grade is used mainly for trucking and trailer tie-downs, heavy load securement, and towing. It is also a good choice for safety applications and recovery work.
G70 chains can withstand 700 newtons per square millimeter of tensile strength, which is enough to withstand the abuse that is often applied during towing and other recovery operations. However, these chains may elongate somewhat during towing, so operators should take this into consideration when choosing this grade.
Another popular choice is Grade 80 chain, which is about 25 percent stronger than Grade 70. It's also made from heat-treated steel, and is commonly used for heavy overhead lifting, rigging, and towing.
Next to grade 120, this chain is considered to be the strongest available. It has about 25% more strength than Grade 80, and is the preferred option for overhead lifting and other extreme uses.
Unlike other kinds of chains, tow chains can be used with different hooks and ring configurations. They can be fitted to slings, car carriers, and other equipment.
They can be welded or spliced to other chains for added versatility and durability. These chains are available in a wide range of sizes and diameters, so they're suitable for almost any project or application.
Tow chains are an essential part of any towing or recovery operation, so it's important to ensure you have the right type for your job. The chain that's best for you depends on the tensile strength and working load limit of your particular chain, as well as the type of rig you're using. It's a good idea to contact Elite Sales for guidance on the type of chain you need for your next project or application.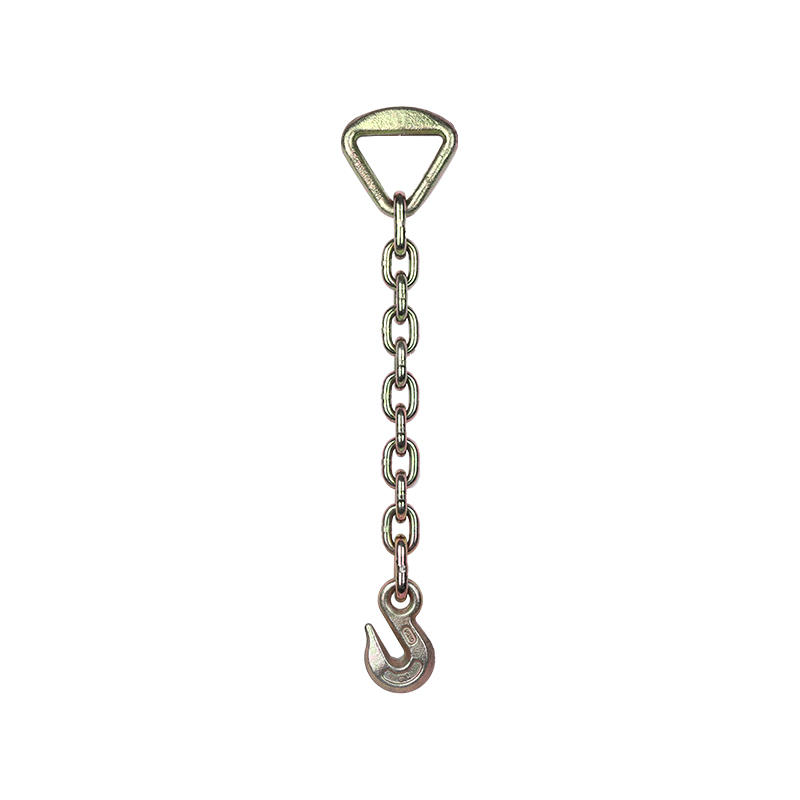 Chain anchor with delta ring and eye grab hook
| | | | | | | | |
| --- | --- | --- | --- | --- | --- | --- | --- |
| Delta Ring Size | Enlarged Link Size | Chain Size & Grade | Qty of Chain link | Hook Szie & Grade | Breaking Load (lbs) | Length | Packing  |
| 2" | 3/8" | 1/4" G43 | 14 | 5/16" G43 | 10000 | 18" | 50 |
| 2" | 3/8" | 5/16" G43 | 11 | 3/8" G43 | 10000 | 18" | 50 |
| 3" | 7/16" | 5/16" G70 | 10 | 5/16" G70 | 16200 | 18" | 35 |
| 3" | 7/16" | 5/16" G70 | 10 | 3/8" G70 | 16200 | 18" | 35 |
| 3" | 7/16" | 3/8" G43 | 5 | 3/8" G43 | 16200 | 12" | 35 |
| 3" | 7/16" | 3/8" G43 | 9 | 3/8" G43 | 16200 | 18" | 35 |
| 4" | 7/16" | 3/8" G70 | 9 | 3/8" G70 | 20000 | 18" | 35 |